When we forget to remember
A
few days ago we remembered the victims of the London Bridge attack, a year on. A special service was put on in Southwark Cathedral and a minutes silence held to remember the eight people killed, and forty eight injured.
Two weeks ago today was the first anniversary of the Manchester Arena attack. Similarly on that day, a minutes silence was held around the city, to give us a chance to think about the 22 people who were killed.
On both these occasions, I, like probably a lot of other people, ended up thinking back to what I was doing on the night it all happened.
On the morning after the London Bridge attack I remember waking up in Guernsey, drained after completing a massive 40-mile charity walk the day before. Oblivious to what had happened I reached for my phone and then saw the BBC news alert, and the mass email from my news editor asking who in the team could be on the next train to London to cover and report on the horrific events.
On the night of the Manchester Arena attack, even though I was living in Manchester at the time, I was nowhere near the Arena or even the City Centre. Again in fact, I was in bed when I heard the news.
I'd only moved to the city and started a new job (my current job) a few weeks earlier, and with the early starts and long commute I was constantly shattered. I'd gone to bed ridiculously early, but I remember waking up at about 11pm – about half an hour after the bomb had gone off – and picking up my phone to see the BBC News alert. Everyone on Facebook who'd heard the explosion was wondering what it was. At first there was speculation a speaker had blown somewhere in the arena. But it wasn't long before the horrific reality became clear. People started frantically sharing images of missing loved ones on social media in a bid to track them down. I spent most of the rest of the night live streaming BBC News and keeping an eye on Twitter to try and follow what was going on.
I was due to be off work the next day. But as a journalist it seemed ridiculous to sit at home watching the news when I felt I should be there helping to make it – so I emailed my editor to offer my services. News broke throughout the day, as victims were named, and the police confirmed their timeline of what had actually happened. Manchester was in shock as we all tried to process the fact that it had happened in our city, in a place a lot of us pass by all the time. The reality was dawning that nowhere was "safe". The fact that going to a concert shouldn't be a high-risk activity, made no difference. And disgust set in at the way children had been deliberately targeted. But among the shock and sorrow, there was a grit. A determination not to be cowed. I went to St Anne's Square a few days later to see the thousand and thousands of bouquets, cards, teddies, and balloons laid in tribute. Strangers sobbed together. Biker gangs rode by en mass to try and send the message that Manchester was not afraid.
Until then I hadn't felt any particular attachment to Manchester. It was just a city, where I was going to be working for a few months, before going back to Guernsey (I didn't know then that my work contract would be extended twice more). And to be completely honest I wasn't all that sold on the city's charms, instead constantly and unfavourably comparing it to my old adopted home of Glasgow. But as I stood in St Anne's Square, and heard the inspirational stories of love and sacrifice from people doing their best to help, I started to feel part of something. Through the worst possible circumstances I'd come to see the heart of the city. The pride of those who lived there. The defiant outrage that someone should threaten it. And the indignation that young people visiting the city for a fun night at a concert, had been robbed of their right to safely return home again.
I've now been in Manchester for a year, and am due to stay here for another. I certainly don't think I'll stay here forever. But while Belfast will always be my home, Manchester has certainly gained a place in my affections – something I didn't expect to happen at all, never mind, for it to happen so quickly.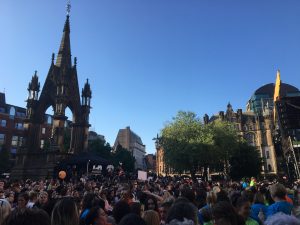 On the evening of the anniversary I was proud to stand with my choir, and thousands of other local choirs, singing as part of the Manchester Together tribute event in Albert Square, in unity with One Voice. It was a really great event, and it was the bravery of the Survivors Choir (made up entirely of people who were at the concert) performing 'Rise Up' that struck me the most. For many of those struggling with the anniversary, it helped give them something to focus on.
But now a week or two on, I'm wondering whether events like this can also give the rest of us an easy way out. A way to feel like we're doing something to help, without actually doing anything.
It's easy for us to remember those affected when it's all over the news, or when big events are held, or on anniversaries. But how many of us are still thinking about the victims now just a few days or a few weeks later?
We've been able to move on with our lives in a way many of the victims and their families can't, and maybe won't ever be able to.
Many of those who survived these attacks and their families will be forever scarred – both physically and mentally. Even some of those who weren't injured have been left constantly looking over their shoulder, left scared of going to music venues, or even being in busy public spaces. Some have dropped out of college, or university, because of medical reasons, or simply because their priorities have changed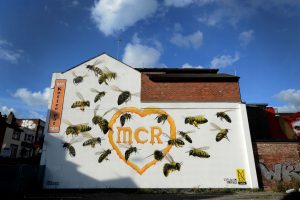 The real challenge for the rest of us is to remember the families of these tragedies, and others, the rest of the year too. So I'm setting myself a challenge – to not just remember at anniversaries, when a minutes silence is held, or when I walk past a tribute mural. But everytime I take the fact I'm living a happy and healthy life for granted.